So, day 6…
As I stood there on the platform of the train station I suddenly felt nervous but why?  I didn't fancy him, I couldn't even remember him, I just had the sense of a good conversation and the desire to talk to him again.
Oh no, what if I don't recognise him, now embarrassing!
A train pulled in, a crowd of people tottered towards me (mostly women) and the wind started to blow in my face making my eyes (minus my glasses) begin to water, everything was getting a bit blurry.  At the end of the gaggle of women pushing towards me was the Man…
Oh My Life, I did NOT remember him like this, he was GORGEOUS!  He was dressed in blue jeans, a dark blue shirt and a blue suit jacket.  He looked GREAT.
He came to me and we embraced continental style with a light kiss on each cheek and he smelled divine.  I could not believe how good looking he was, how did I not remember HIM?
But, I knew it was because when I'm with the Child, I am in Parent Mode not Prowler Mode.  In Parent Mode, men cease to be Potential and instead simply become People.
I was instantly thrown mentally off balance and immediately felt myself hurtle through a roller-coaster of emotions.
I met a guy, tracked him down to his place of work, asked him out (to help me with my research) and he turns up looking and smelling amazing and I am the Older Woman.
Scary Bunny Boiler alert!
OMG what if he thinks, that I think, that I said it was for Research Purposes but really its all a ruse I've concocted to get him out on an actual date?
How embarrassing!
I recovered myself and launched into Researcher Mode, taking control of the situation and hiding behind my mental notebook and prepared to interview him.  After all, I asked him to meet me for research purposes, that's why he's showed up – for research purposes, right?
We made our way to the restaurant, chatting away merrily whilst I tried to remain composed in front of this handsome YOUNG man.  Did I mention he was around 10 years younger and fitter than me.
As we reached the restaurant I was ahead of him and made to pull open the door – Fatal Flaw #3:  As I swung the door open I began to motion for him to go through with my free hand!  In mid-arc I realised what I was doing, stopped and stepped through the door myself ahead of him.
We got to the bar where I committed Fatal Flaw #4.  "I'm getting dinner in return for the coffees and cake" I say.  "No, Stephanie, let me, it was only coffee" says Pancake Man.  "No, I insist anyway you're helping me with my research".  He looked at me a little quizzically but we ordered drinks and sat at our table.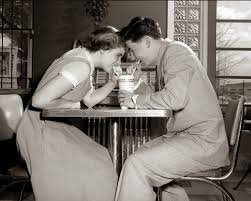 And so my bewilderment deepened.
He was tactile, kept touching my hand, it was warm.  He was utterly charming, said all the right things including asking my age in the nicest way I've ever heard "ah age is just a number to me Stephanie".  All the while he looked deep into my eyes during the conversations, explaining how he was happy to make eye contact and flirt with the ladies.  See, he was engaging in the research.
We talked about all manner of things, about our birth signs being the most compatible (!), how we could meet up whilst on my planned trip around the northern counties in the summer, how he loved food (me tooooooo!)…he could do no wrong.
To be continued some more…