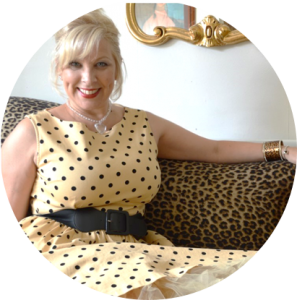 Loose Knickers – Wise Words for the Modern Woman
My fun and no-nonsense dating advice and romance coaching!
Hello darling.
It's a pleasure to meet you, I'm Stephanie, mother of one quite lovely young man, budding businesswoman and utterly dedicated to helping women find old-fashioned romance.
Presently I live in  the Midlands in the UK,  I love my life and the people in it (apart from drivers who cut me up and people who walk around staring at their smartphones, especially when they have friends/kids with them, grrr).  
I'm mad on films and I've collected over 3000 titles, my favourites of which are too many to mention but…I do have the ENTIRE series of 'Murder She Wrote'.  That's a tough one to follow 😉
I love biscuits, crisps, meat pies and other pastries (however, they do NOT love me!).
Some of my other passions are coffee shops, tea rooms, my bed, people, glamour, slobby jogging bottoms, high heels (and flatties) vintage dresses, bubble baths, beautiful photography, road trips and the obligatory chocolate.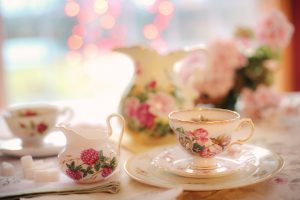 I also love Romance!

Well that's me summed up in a couple of paragraphs!

---
Now, to Loose Knickers…what and why!
I know right, crazy name for dating advice and romance coaching but, 
Loose Knickers Will Trip You Up – Wise Words for the Modern Woman
does exactly what it says on the tin!
Look, in case you hadn't noticed (have you been locked in a vacuum??) the romance landscape has changed.  
Sex apps rule the Smartphone-zone – you can Whatsapp yourself a date in a matter of seconds and be diving into some stranger's undergarments in a matter of minutes!
This is GREAT if this set-up TRULY, DEEPLY makes you happy AND nobody else gets hurt in the process.
However, this environment and throw-away attitude to intimate connection is making more women (and men as well), more confused, more lonely, more resentful and more unhappy (that was me a few years ago!)
This is because you think you need a partner for romance.
Let me tell you that no, actually you don't and I can show you how because Romance really is a matter of perspective!
Maybe you think you need to have sex on the first date (or at least within the first couple of weeks at the most) to capture or keep that fella?
You really don't need to act or BE someone completely different to attract and keep the apple of your eye?
Feeling like you have to have a potty mouth and perform like a porn-star to stay high on a guy's Interest and Attraction-ometer is not the path to old-fashioned romance.
Do you think that you should dumb down, dress down,  keep your voice down to make that chap stay with you?
And do you think that you have to give up your friends, family, interests, job, freedom, self-respect…your life, to find love and romance?
Na-ah!
Girlfriend, you have every right to love and be loved in a way that is 100% aligned with your values as a human being and as a woman!
And if you DON'T believe that, then honey, you'll just keep getting used, abused or confused, I know this is hard to hear but, it's true.
OK, here's the thing, the Loose Knickers ethos is built on 3 pillars : Love Yourself, Love Life, Love Others…this ethos is what drives the philosophy of Live Happy, Date Wisely & Love Better.
Loose Knickers is dating advice for old-fashioned values but with modern perspectives!
I can show you how you can build a better life for yourself where you feel more respect, more freedom, more confidence, more connected, more love and of course, more romance!
How about learning how to navigate the new dating and romance landscape safely, with dignity and with a whole lotta FUN?  I can show you how.
You'll enjoy romance, even when you're single and you'll totally rock romance when you meet those peeps you actually WANT to date!
And, when you have a more Romance State of Mind, guess what, it lifts you AND your world!
Romance is a ripple effect.
That's why I am DEVOTED to helping you kind-hearted, compassionate, beautiful souls navigate this new dating and romance landscape with it's increasing complexities, digital dilemmas and people's loosening knickers because (like the song says) what the world needs now is Love.  
Oh indeed, it needs so much more love in it, I know you know this!
If you're looking for meaning and meaningful in today's hook-up culture then Sign Up and join in for regular tips, insights and inspiration to Live Happy, Date Wisely, Love Better (oh, and Be Fabulous)!
You can take that first step on your uber Romance journey here, grab my totally free eBook to help get you started.
Say a big, fat HELL NO to sh***y dates (AND other dodgy people, jobs and situations) and a huge, squashy OH YEAH to a ton more good stuff in your life.
ALL of your life, not just your love-life!
See you on the flip-side girlfriend!
Wishing you oodles of love